Best Strategy
A strategy game is one of the hardest games to make. Since the days of Dune and Warcraft, so many strategy games have been so similar, you stop paying attention to any of them. The careful balance that takes place between the units and defenses of opposing sides is nearly as careful as the balance of Plutonium and Hydrogen. Total Annihilation, one of the older contenders of the industry has been one of a few games with so tight a balance, it has been the standard upon which all other RTSs (Real Time Strategies) are judged. Turn based strategy also has its place, though, as Alpha Centauri and Master of Orion have reminded us. It's gameplay, at times even more strategic and less tactical, surely can claim the prize just as readily as any RTS.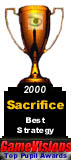 Sacrifice
This year the Top Pupil award for Strategy of the Year has to go to Sacrifice. Every now and then, a game comes along that totally redefines a genre. One that explores possibilities that never before had been contemplated. Something so conceptually new, it's difficult to even place it in the correct category. Sacrifice is this game. Sacrifice's first person action/rts combination gives the game a whole new perspective and mode of thought. It's units, sides, and spells are so different, yet balance each other so well, it's amazing. It is one of the few games I have seen in a long time that shows such devotion of time and care for a game.
Read our Sacrifice Review
Initially my pick for Strategy of the Year, Earth 2150 takes a far more traditional approach to Real Time Strategy. Rather similar in many ways to Total Annihilation, E2150 updates the game quite a bit by giving it a 3D adjustable camera, more units, and three sides. Definitely a good strategy for a traditional war gamer.
Read our Earth 2150 Review
« Previous Page - 1 2 3 4 5 6 7 8 9 - Next Page »