Best RPG
An RPG is arguably the most difficult type of game to develop. Not only must you create characters, but you must get inside their minds, feel their feelings, and invent a life and a history not only for your characters, but for the world they live in. For an RPG to be believable, it must be a world as real as our own, and people of more character than are truly alive. RPGs are traditionally enormous games, with hundreds of hours of places to explore and items to collect. It is a place for the imagination to form a reality, if just in a little metal box.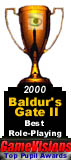 Baldur's Gate II: Shadows of Amn
Baldur's Gate was one of the all-time best selling RPGs, so when Baldur's Gate II came along, it was dissected and examined inside and out. Remarkably, it not only held up to its original name, but out staged it's prior counterpart by 150%. BG2 improves its graphics engine, enhances the AI and skill levels, and is much larger than imaginable. It is one of the most detailed games ever, with up to 800 hours of gameplay, complete character and NPC personalities, and a fully explorable universe. With the new D&D movie coming out, it makes it an even better time to play the real thing.
Read our Baldur's Gate II: Shadows of Amn Review
Ironically, the first runner up placing just below Baldur's Gate II, is it's more action-based counterpart, Icewind Dale. Taking place in the far north (where Baldur's Gate II takes place in the south of Faerun), in a time long before Baldur's Gate II's events take place, Icewind Dale is on the ARPG (Action RPG) end of the D&D series. Focusing more on attacking than negotiating, if you have a short temper, Icewind may certainly fit your personality more than BG2.
Read our Icewind Dale Review
« Previous Page - 1 2 3 4 5 6 7 8 9 - Next Page »